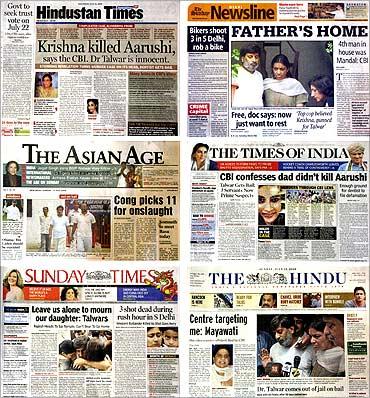 The greatest problem the Indian newspaper industry faces is the sheer incompetence of people, and their tendency to get locked into a particular way of doing things. A mail I had once sent to the editors of the Business Standard is illustrative. They did not listen to this boy, but I am glad that my wonderful ex-colleagues think that this is hilarious. The newspaper content is in block quotes:
"Merry Christmas, dear editors. I often hear that I write like an essayist and that my stories read like opinion pieces. But, I think it is far more effective to see where my comparative advantage lies.
Let us take yesterday's Business Standard. See the report: "Kingfisher seeks resumption of operation". Read this sentence: "The license suspension will be revoked only after the stakeholders are convinced with the plan."
A person is convinced "by the plan", and not "with the plan".
Here is a report: "Ranbaxy's Lipitor generic may miss Dec deadline for return to US market". Read the opening line: "Ranbaxy's generic version of Lipitor, which faced recall from the US market last month, could remain missing at the beginning of 2013."
"Faced recall from the US market"? We often hear that senators "faced recall elections". But, it is wrong to write, "faced recall from the market". Similarly, it is wrong to say, "The company might see some financial impact". 
See "TAM data out after nine-week pause, Colors on top".

"Viewership data, released after a nine-week gap by TV ratings agency, TAM Media Research, has shows Colors hogging the top slot for the past four consecutive weeks, after the first phase of digitisation."
"Has shows colors"? "Managed the top spot"? Such expressions do not exist.
See "Stumbling along in Europe, Tata Steel reaches a crossroads". 

"Though the deal catapulted Tata Steel to the fifth largest steel maker, in hindsight, it looks like a costly deal."
"Catapulted Tata Steel to the fifth largest steel maker"? What does that mean?
I have never seen this expression: "A peck in the ocean".Perhaps she meant a "peck on the cheek"?
Or, read this incoherent sentence: "It's a combination of factors that's affecting Tata Steel Europe, raw material apart, such as under-investment in plants by erstwhile promoters, and high employee cost, though Tata Steel has downsized significantly, and slowdown in Europe."

"The Indian operations are on a steady course, which is poised to better once the steel plant at Kaliganagar is commissioned in 2014."
"Poised to better" should not stand alone. For instance, it is correct to say: "This initiative is poised to better understand how the American economy functions".
See "Allocating money to buy friends in the US."

"Bangalore-based Wipro which has its own lobbying team, saw its spending going down."
"Saw its spending going down"? You do not see your spending going down.
See "With Gujarat plants, Maruti set to double capacity"

"The car maker had earlier announced that the Gujarat plant would have an initial annual capacity of 250,000 units in a phased manner."
I think the expression, "In a phased manner" is an invention of Indian journalists.
"Maruti's production in Gujarat would be both for exports and domestic sales, Bhargava confirmed. "We are yet to decide on the exact product mix, and the ratio of exports," he added."
"Ratio of exports"? What does this mean? A ratio is always a relationship between two numbers. It is correct, for instance, to say, "the ratio of exports to GDP", or "the ratio of exports per job".
See "Federal Bank, Dena Bank raise deposit rates by 25-35 bps."

"Despite the interest rates having a softer bias, with the central bank indicating rate cuts during the fourth quarter of the financial year, some banks have increased deposit rates by 25-35 basis points on Monday in select maturities."
The phrase "select maturities" is again, an invention of our journalists.
"This offers banks some space to attract."
 "Some space to attract"? What on earth does that mean?
See the interview "We need to raise Rs 10,000 cr in capital: M Narendra."

Read the question, "Earlier, you had set a target of Rs 5 lakh crore by 2014 and said IOB would be the fifth- largest bank. Are you on track?"
"Are you on track?" does not stand alone.
See "RBI announces open market operations, but liquidity may remain tight".

"RBI conducted two open market purchase of gilts this month to make the liquidity situation comfortable."
Open market operations are just a euphemism for manipulation of the money supply. Anyone who has deeply studied monetary economics knows this. Open market operations "makes the liquidity situation comfortable"? This is quack economics.

  See "IIFCL's Rs 9,215-cr tax-free bond issue to open tomorrow".

 "Goel said the coupon rate on its bond last year was even lower but it still got over-subscribed."
"Got Over-subscribed" is, again, an invention of our intelligent journalists.
See "Panel report on central schemes may be implemented next year" 

"The government plans to implement the much-talked-B K Chaturvedi panel report on revamping centrally-sponsored schemes (CSS) from 2013-14."
Much-talked-B K Chaturvedi panel report?
"The finance ministry is of the view that the programme should not be just pruned arbitrarily and it should be done with proper financial implication."
"Should be done with proper financial implication"? The policies the central government implements might have many implications, but you do not "do things with proper financial implication".
See "Special investigation team lacks legal teeth".

"As many as 30 of the 38 projects were granted hurried approvals in just four days, including 11 on a single day in August."
"Were granted hurried approvals" is again an invention of our illiterate journalists.  When one journalist makes a mistake, others soon follow suit.
Or, read this incoherent sentence: "The government had argued an SIT was not needed, as a 900-odd pages White Paper, in two parts, had already given project-wise investments, and had also cleared some basic questions on what had happened."

See the interview "India can grow like China if domestic issues settled"

"Are you saying that if India addresses these domestic hurdles, it can tread a high growth path like China?"
"Addresses these domestic hurdles"? "High growth path" is another Indian expression.
Or take the Weekend BS

 "The Modi-for-Delhi speculation gains wind"
 "Gain wind"? It is clear that there is no such expression. 
Or read the opening sentence of Mitali Saran's column on the same day. She is a popular columnist.

"The grotesque gang rape and torture of a young medical student in a bus in Delhi has done for Indian women what the Sandy Hook Elementary School shooting, three days beforehand, has done for the gun control debate in the United States."
First of all, the word beforehand (before+hand) is used either as an adverb or an adjective. When used as an adjective, it means that someone was ahead of time. For instance: "He was beforehand with his thesis paper.", or "Rich and much beforehand". When used as an adverb it means ahead or time, or in anticipation. In the sentence, "We should have booked the tickets beforehand", it is used as an adverb. This is is incorrect usage.
I can go on. Some columns are poorly written. Many are poorly argued. A column on growth, for instance, argued that the lack of reforms in land and labor is a cause of inflation. This is not true. The supply of goods rarely goes down to that point that the prices rise. Inflation is always an increase in money supply. If I state such facts, it might be considered as my opinion, but I know that this is all true. If you read carefully, you can find such mistakes in almost every passage. I can tighten the prose. The Resident Editor said that ours is a business paper. It is read by a sophisticated audience. We cannot afford many such mistakes."
Post Script: I am of course, aware of Ambrose Bierce's excellent defense: "Precision is much, but not all; In neither taste nor precision is any man's practice a court of last appeal, for writers all, both great and small, are habitual sinners against the light; and their accuser is cheerfully aware that his own work will supply many "awful examples"—his later work less abundantly, he hopes, than his earlier. He nevertheless believes that this does not disqualify him for showing by other instances than his own how not to write. The infallible teacher is still in the forest primeval, throwing seeds to the white blackbirds."